Final week of non-conference action for Pac-12 women's volleyball
Sep 14, 2015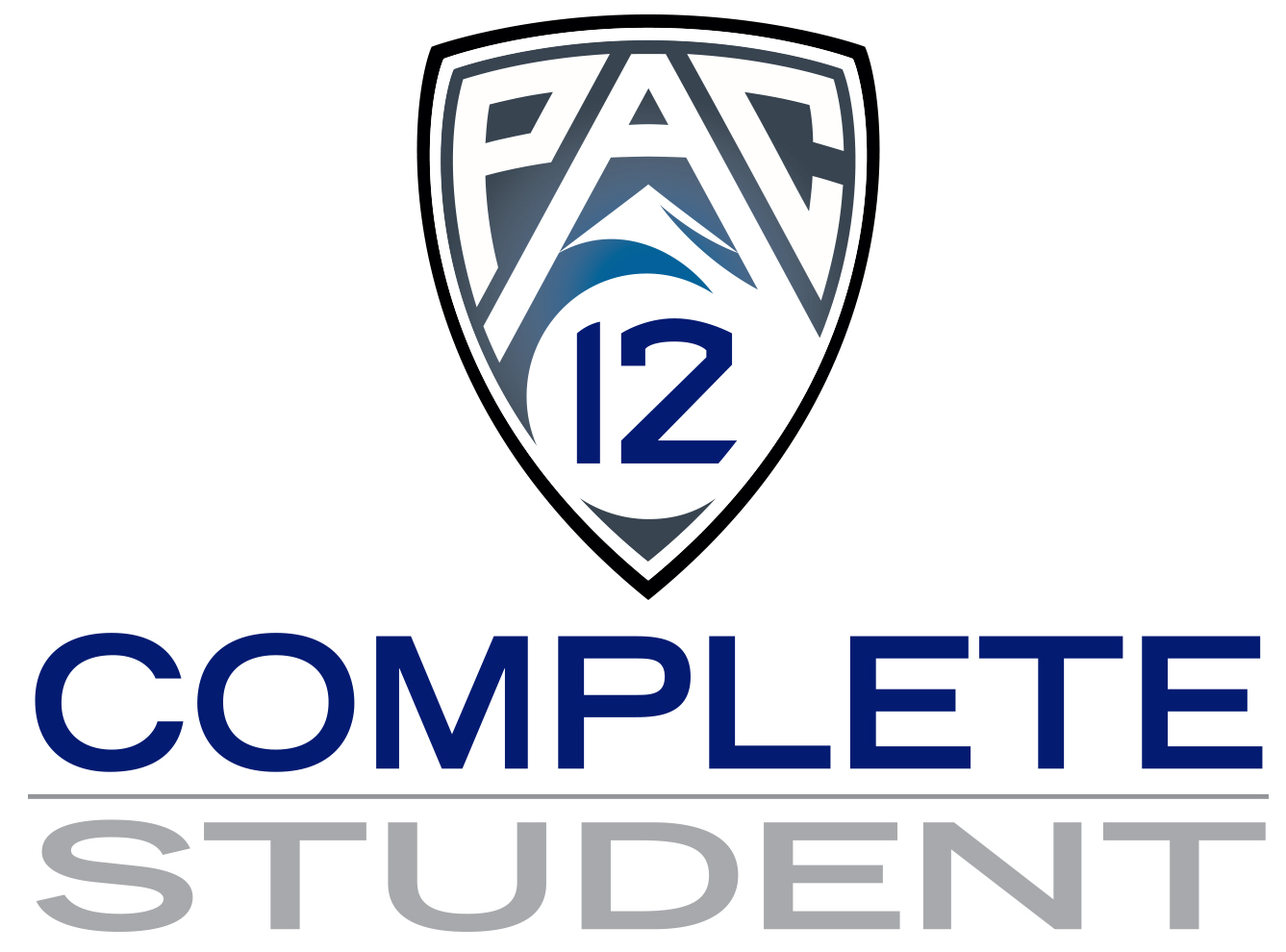 COMPLETE CAMPAIGN: Pac-12 students are known for their success on the field, but they are also impressive, complete people with outside interests, diverse backgrounds, extracurricular activities, interesting families, busy schedules, and full lives. Our school's releases for this week's games will focus on who Pac-12 students are off the field of play.
Below are just a few highlights of the students from around the Conference:
• ARIZONA: Junior Laura Larson is a superstar in the classroom. The Lakeville, Minn., native came to UA with 38 units worth of AP credit and through two years at Arizona has a 3.953 GPA while majoring in Molecular & Cellular Biology with a minor in sport management. Larson plans to apply to Pharmacy school after volleyball. She was named first-team Pac-12 All-Academic a season ago after a 4.0 2013-14 academic year; she was the only Pac-12 volleyball player with a 4.0 GPA in the conference.
• CALIFORNIA - Laura Leap is now an intern with the Friends of Jaclyn Foundation (non-profit that works with children with pediatric brain tumors). A sophomore from Thousand Oaks, Calif., she has served as the team's community service ambassador, as well. To view a video on Leap's organizing community service field trip, click here: http://www.calbears.com/ViewArticle.dbml?ATCLID=209969805
• COLORADO: Joslyn Hayes and Nicole Edelman patriciate with the Read with the Buffs program. Each semester, student‐athletes attend local elementary schools and read an inspirational story for the kids. Students are quizzed on material and can receive CU prizes for correct answers. CU student‐athletes encourage the children to read to expand their mind and pursue a college career. Edelman has also done bilingual visits since she is fluent in Spanish. 
• OREGON STATE: The Beavers recently earned the AVCA Team Academic Award, given to teams with a GPA above 3.3. OSU had a team GPA of 3.35, including a team GPA of 3.5 last quarter. Since 2005, OSU volleyball has led the Pac-12 with 73 Pac-12 All-Academic selections. Last year's team had 18 players with GPAs of 3.0 or higher.
• STANFORD: Senior Madi Bugg is interning for Condoleezza Rice on campus. She is a political science major, who has an interest in politics.
• USC: Check out sophomore Brittany Abercrombie's Monday and Wednesday academic schedule - She starts the day at 9 a.m. in an international relations course called Approaches to Research (IR211) and then goes straight to Communication Strategy in Business (BUAD302) in the Marshall School of Business. At noon, she is in Introductory Theory and Analysis in International Relations (IR210) and has a night course on Wednesdays after practice called The Nature of Human Occupation (OT320).
• THIS WEEK: The final week of non-conference action is on the slate for Pac-12 volleyball teams. No. 16 ARIZONA hosts second-ranked Texas in the Wildcat Invitational, while No. 10 ARIZONA STATE hosts No. 6 Illinois in the Red Lion Invitational. No. 3 USC and No. 8 WASHINGTON travel to Norman, Okla., for a four-team tournament against Maryland and the host Oklahoma. UTAH takes on No. 9 BYU on Thursday and COLORADO hosts Air Force on Sunday. Both matches will air on Pac-12 Mountain.
• IN THE RANKINGS: For the fourth-straight week, at least seven Pac-12 teams are ranked in the top-25. USC started the season ranked No. 22 in the country and has made a rapid climb to No. 3 this week. The Trojans headline four top-10 league squads, with WASHINGTON ranking seventh, followed by No. 8 STANFORD and No. 10 ARIZONA STATE. UCLA has also steadily ascended the rankings, coming in at No. 14 this week after earning a No. 20 preseason rating. ARIZONA is No. 16 and OREGON is No. 19. COLORADO is receiving votes this week.
The Pac-12 had a league-record nine teams earn preseason top-25 ratings this season.
• NCAA STATS: Pac-12 teams lead or are in the top five in six statistical categories. WASHINGTON is the nation's leader in hitting percentage at .382. The Husky defense has also been quite impressive, limiting their opponents to a .084 hitting, which leads the country.
ARIZONA STATE, USC and Washington are three of 10 remaining undefeated teams in the country.
Individually, USC's Samantha Bricio leads the country in two categories. The Conference's all-time total aces leader, her 0.81 aces per set is tops in the country, as is her 6.32 points per set. Four Pac-12 players are in the top 10 in blocks per set, including Alicia Ogoms of USC who ranks fourth at 1.68. STANFORD's Ivana Vanjak ranks sixth (1.62), ARIZONA STATE's Whitney Follette is seventh (1.61) and WASHINGTON's Melanie Wade is ranked 10th (1.54).
For a complete list of NCAA stats team and individual leaders visit this link: http://stats.ncaa.org/rankings/ranking_summary
• PLAYERS OF THE WEEK: For the third-straight week, Bricio was named Pac-12 Offensive Player of the Week. She is the first player since 2001 and only the second all-time to earn Conference weekly honors three-consecutive weeks in the same season. WASHINGTON's Lianna Sybeldon was named Pac-12 Defensive Player of the Week and Zana Muno was selected as Pac-12 Freshman of the Week.
• Pac-12 teams have defeated eight ranked non-conference teams so far this season with USC accounting for three of those wins. The Trojans' three wins were to teams ranked in the top 11 at the time of the meeting, two of which came in the opening weekend. UCLA traveled to then-No. 17 Hawai'i over the weekend and took down the UH in front of a crowd of over 8,600 fans. ARIZONA STATE, COLORADO and STANFORD have also notched wins over top-10 foes.
• Three Pac-12 teams remain undefeated after two weekends of action while 10 teams have a record of .500 or better due, in part, to the strength of the league's defense. Nine Conference teams are limiting opponents to a .178 or worse hitting percentage. That would've ranked all nine teams in the top 66 in the country in the NCAA last year out of 328 teams. ARIZONA STATE has been the most unrelenting, boasting a minuscule .076 opponent hitting average, which would have ranked No. 1 in the country, by far, last year.
• Pac-12 teams went 27-7 in the opening weekend, with 17 of those victories coming in three-set sweeps. Since 2002, league teams have dominated the first weekend of play, going 332-81 (.804).
• The Pac-12 is coming off another historic season which saw an unprecedented 10 teams earn NCAA Tournament bids and went a perfect 10-0 in the first round of the postseason.
• Last year, 14 players were named AVCA All-Americans and eight return for 2015 including senior standouts such as Stanford's Madi Bugg and Jordan Burgess, USC's Samantha Bricio, UO's Martenne Bettendorf, ASU's Macey Gardner and UW's Lianna Sybeldon. Sophomores Merete Lutz of Stanford and Mary-Kate Marshall of OSU also return to help lead their respective teams this season.
• One new coach will be roaming the Pac-12 sidelines after WASHINGTON announced the hiring of Keegan Cook, who replaced former UW coach Jim McLaughlin. However, Cook may look familiar to some as he served as an assistant coach under McLaughlin the last two years, helping the Huskies advance to the NCAA semifinal in 2013. Also in coaching news, UTAH head coach Beth Launiere needs just seven more victories for career No. 500. She has spent all 25 years of her career in Salt Lake City.
• FAB Freshman ... Pac-12 volleyball continues to recruit marquee student-athletes. Seven Pac-12 teams landed at least one Volleyball Magazine FAB 50 recruit with OREGON pacing the Conference with four. STANFORD signed the nation's top recruit according to the publication in Hayley Hodson.
• Once again, the Pac-12 will have the most comprehensive volleyball television coverage of any league in the country. 95 total matches will be broadcast live, with 92 being televised on the Conference's Pac-12 Network. Another three more were selected to be televised on ESPNU. For the full television schedule, visit pac-12.com.
---
| Teams | Points | Pac-12 Record | Overall Record |
| --- | --- | --- | --- |
| USC | 0 | 0-0 | 10-0 |
| Arizona State | 0 | 0-0 | 8-0 |
| Washington | 0 | 0-0 | 8-0 |
| Washington State | 0 | 0-0 | 8-1 |
| Arizona | 0 | 0-0 | 8-1 |
| UCLA | 0 | 0-0 | 7-1 |
| Oregon | 0 | 0-0 | 6-3 |
| Stanford | 0 | 0-0 | 5-2 |
| Utah | 0 | 0-0 | 4-2 |
| California | 0 | 0-0 | 5-4 |
| Colorado | 0 | 0-0 | 4-4 |
| Oregon State | 0 | 0-0 | 2-6 |
---
UPCOMING SCHEDULE (All Times Local To Site)
Thursday, Sept. 17
TV/Live Stream
Time
#7 WASHINGTON vs. Maryland (1)
 
5 p.m. CT
#3 USC at Oklahoma (1)
 
8 p.m. CT
#9 BYU at UTAH
PAC12/PACM
7:30 p.m. MT
Friday, Sept. 18
 
 
#14 UCLA at UC Irvine
 
10 a.m. PT
New Mexico State at #16 ARIZONA (2)
Live Stream
10 a.m. MT
WASHINGTON STATE vs. Northwestern State (4)
 
1:30 p.m. CT
UNLV at #10 ARIZONA STATE (3)
Live Stream
12 p.m. MT
Montana State at COLORADO (5)
Live Stream
2 p.m. MT
#3 USC vs. Maryland (1)
 
4:30 p.m. CT
WASHINGTON STATE at Texas Tech (4)
 
7 p.m. CT
Weber State at COLORADO (5)
Live Stream
7 p.m. MT
WASHINGTON at Oklahoma (1)
 
8 p.m. CT
OREGON STATE at UC Irvine
 
7 p.m. PT
Pacific at #8 STANFORD
Live Stream
7 p.m. MT
#2 Texas at #16 ARIZONA (2)
Live Stream
7 p.m. MT
St. Mary's (Calif.) at CALIFORNIA
 
7 p.m. PT
#14 UCLA at Long Beach State
 
7:30 p.m. PT
Saturday, Sept. 19
 
 
WASHINGTON STATE vs. Portland State (4)
 
11 a.m. CT
Texas Southern at #10 ARIZONA STATE (3)
 
12 p.m. MT
Savannah State at #16 ARIZONA (2)
Live Stream
12 p.m. MT
OREGON STATE at Long Beach State
 
7 p.m. PT
St. Mary's (Calif.) at #8 STANFORD
Live Stream
7 p.m. PT
#6 Illinois at #10 ARIZONA STATE (3)
Live Stream
7 p.m. MT
Pacific at CALIFORNIA
 
7 p.m. PT
Sunday, Sept. 20
 
 
George Mason at COLORADO (5)
Live Stream
9 a.m. MT
Air Force at COLORADO (5)
PAC12/PACMT
7 p.m. MT
1 - Oklahoma Invitational, Norman, Okla.; 2 - Wildcat Classic, Tucson, Ariz.; 3 - Red Lion Invitational, Tempe, Ariz.; 4 - Texas Tech Lone Star Showdown, Lubbock, Texas; 5 - Omni Invitational, Boulder, Colo.
PAC12/PACAZ/PACBA/PACLA/PACMT/PACOR/PACWA - Indicates live broadcast on Pac-12 Networks.
---
PAC-12 PLAYERS OF THE WEEK
THIS WEEK:
Offensive - Samantha Bricio, USC
Defensive - Lianna Sybeldon, Washington
Freshman - Zana Muno, UCLA
ALSO NOMINATED:
Offensive: Kalei Mau, ARIZ; Macey Gardner, ASU; Christine Alftin, CAL; Alexis Austin, COLO; Martenne Bettendorf, ORE; Mary-Kate Marshall, OSU; Brittany Howard, STAN; Jordan Anderson, UCLA; Courtney Schwan, WASH; Kyra Holt WSU.
Defensive: Mackenzie Kleespies, ARIZ; Cierra Simpson, COLO; Amanda Benson, ORE; Kayla Ellis, OSU; Halland McKenna, STAN; Taylor Formico, UCLA; Alicia Ogoms, USC; Adora Anae, UTAH; Kate Sommer, WSU.
Freshman: Tyler Spriggs, ARIZ; Naghede Abu, COLO; Lauren Page, ORE; Cory Cheshire, OSU; Hayley Hodson, STAN; Alyse Ford, USC; Destiny Julye, WASH.
2015 PAC-12 WOMEN'S VOLLEYBALL PLAYERS OF THE WEEK
---
IN THE PRESEASON
Pac-12 Preseason Coaches Poll & All-Pac-12 Team | AVCA Preseason Coaches Poll
---
HISTORICALLY SPEAKING
o The Pac-12 has captured six of the last 14 NCAA crowns (2011 - UCLA, 2005 - Washington, 2004 - Stanford, 2003 - USC, 2002 - USC, 2001 - Stanford) and 14 NCAA titles overall.
o The Pac-12 has had 10 or more All-Americans selections in eight of the last 10 years. Last year, 11 were named to the AVCA All-America squad, the most since 13 were selected in 2009. Ten former Pac-12 players have earned All-America honors four times, while another 18 players in all have earned All-American honors three times.
o Since 1990, Pac-12 players garnered AVCA Player of the Year honors 13 times, including the last four of the last five years - CAL's Carli Lloyd (2010), USC's Alex Jupiter (2011), ORE's Alaina Bergsma (2012) and WASH's Krista Vansant (2013). The NCAA Honda Sports Award honor has been bestowed upon a Pac-12 volleyball player 13 times, including Vansant in 2013.
o The current group of Pac-12 volleyball coaches enters the 2015 season with nearly 5,000 Division I victories to its credit, having compiled 4,822 wins in a combined 219 years of head coaching experience. That averages out to nearly 23 wins a season for each coach per season. In addition, these coaches have guided NCAA Division I teams to 38 NCAA semifinal appearances and eight NCAA titles. In the last 13 years, seven different coaches have been named the ASICS/Volleyball Magazine Coach of the Year and/or the AVCA Coach of the Year - Arizona's David Rubio (2001 ASICS), California's Rich Feller (2007 ASICS, 2010 ASICS and AVCA), Stanford's John Dunning (2001 AVCA), UCLA's Mike Sealy (2011 AVCA), USC's Mick Haley (2003 AVCA), Washington's Jim McLaughlin (2004 ASICS and AVCA), and UCLA's Andy Banachowski (2006 ASICS and AVCA).